Javier Gatti-Hernandez
Curated by Simon Critchley and Tom McCarthy of International Necronautical Society (INS)
January 27 – March 12, 2011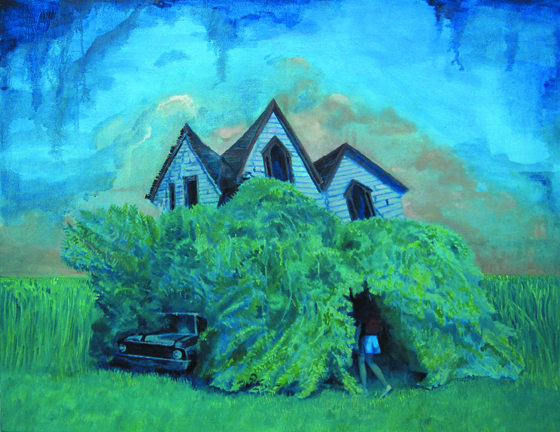 Javier Gatti-Hernandez was born in 1978 to Cuban immigrants in Miami, FL. He began drawing and painting at age eight, and avidly pursued art throughout his adolescence, studying under Lee Willig, a local Miami painter and Cooper Union alumnus. Gatti-Hernandez was awarded a scholarship to attend The Cooper Union in New York, where he studied painting and began making short films, includingDido's Lament (2000) and Beatrice (2008), an Official Selection of the Santa Fe Film Festival.
Gatti-Hernandez has exhibited his work in various group shows throughout the United States, includingSheep in Wolf's Clothing, The Media Triangle; Domestic Arrivals, White Box Gallery, New York, NY;Faster Sleeper, Bas Fisher Invitational, Miami, FL; and Collect 8: Annual Group Show, Center for Contemporary Arts, Santa Fe, NM. Gatti-Hernandez currently resides in Santa Fe, NM. His exhibition at CUE Art Foundation marks his first solo show in New York City.
Simon Critchley is Head Philosopher of the INS and Chair of Philosophy at the New School for Social Research. His most recent book is How to Stop Living and Start Worrying (Polity, 2010).
Tom McCarthy was born in 1969. He is known in the art world for the reports, manifestos and media interventions he has made as General Secretary of the International Necronautical Society (INS), a semi-fictitious avant-garde network. He is author of the novels Remainder (Vintage, 2007), Men in Space (Alma Books, 2007), and C (Knopf, 2010), and of the non-fiction book Tintin and the Secret of Literature(Counterpoint, 2008).
ABOUT INS: Founded in 1999 by Tom McCarthy, the International Necronautical Society (INS) spreads itself as both fiction and actuality, often blurring the two. "Famously described as 'replaying the avant-garde along the faultline of death'" (Art Monthly, London), the INS inhabits and appropriates a variety of art forms and cultural 'moments' from the defunct avant-gardes of the last century to the political, corporate and conspiratorial organizations they mimicked. The INS's manifestos, proclamations, reports, broadcasts, hearings, inspectorates, departments, committees and sub-committees are the vehicles for the interventions in the space of art, fiction, philosophy and media. For more information, please visit:www.necronauts.org.
ARTIST'S STATEMENT
I suffer from a common human condition: I am obsessed with love and death. At the onset of making these works, two things occurred which consumed my thoughts: 1.) A close cousin, both in age and sentiment, died suddenly of a cancer I believed she would overcome, and 2.) a new job made it so that I was estranged from my fiancee for the better part of six months. Both events left me alone and conjuring answers to the question: "Where are they?"
The figures painted in this series remain partially obscured. They are depictions of the fading memory of two people blurred into one: an amalgam of love and death, and "object of desire." While this "object" has been a recurring theme in my work, this new series is more specifically a meditation on obscurity: that which lies beyond what we can physically see.
This absence of my cousin and my fiancee became my point of reference, like a horizon line. These paintings have a centralized composition designed to confront the viewer by placing them at the far end of a path toward the subject and what lies beyond. The horizon becomes a point where the natural world which I am able to quantify and the supernatural world begin to dissolve. As a child, I'd lay awake and stare at the point where two walls faded into a dark corner and I'd see a man standing in that space watching and waiting for me to fall asleep. This type of childhood hallucination is what I believe to be the source of mythology.
This compulsion to qualify the unknown is what inspires my paintings. Oil paint supplies me with a crude spackle for filling in the gaps between what I know and what I imagine. Oils allow me to start with a loose, abstract concept and build up layers of images whose lines can grown and alter as a tangible idea is realized. It is the medium that provides for me the least amount of resistance in the creation of an image.
CURATOR'S STATEMENT
Fireflies
Fireflies began to disappear from the cities of Europe and the West in the 1950s along with the evaporation of collective ideologies of social transformation. They disappeared along with the rise of pollution and the collapse of the political and aesthetic imagination. Fireflies are tiny material markers of resistance, the suicide bombers of the insect world. In the opinion of the INS, the question of experimentation in art and politics turns on the survival of fireflies.
Jean-Francois Lyotard curated a famous exhibition at the Centre Pompidou in Paris in 1985 calledLes Immateriaux. Fewer people know that he was planning a second show called Resistance, which was never realized because of his untimely death. If Lyotard's show were ever to be brought into being, as a kind of posthumous exhibition, having a life after death (and someone should do it), then it would have to involve a lot of fireflies. It would be a show about something which is disappearing, or which no longer exists, or which never existed, or which flares up at the frontiers of existence before being extinguished in inexistence. Art, politics and perhaps life itself, in my humble opinion, should be orientated towards that which does not exist.
We might call this the infinite demand of art. What is infinitely demanding is the cultivation of an ethical disposition of commitment towards a possibility as yet unknown and inexistent in the situation, but still powerfully imagined: a supreme fiction, an event, a utopian moment, a firefly. Strictly and even logically speaking, this demand is nothing, that is, nothing in the situation, nothing that exists. It is like the logic of the sovereignty of Bataille, which he describes with the formula, 'impossible, yet there it is'. This is a little like our relation to death: inconceivable in the minds of the living, and yet absolutely certain. We too will pass from existence to inexistence like fireflies.
The infinite demand is a double me-ontological (from to me on in Greek, that which is not) demand: to see what is in terms of what is not yet, and to see what is not yet in what is. Such is the implication of taking up what I see as a utopian standpoint, the standpoint of inexistence where one is seeing all things hos me, as if they were not.
This means embracing a double nihilism, a bracing, affirmative nihilism, both what Walter Benjamin calls 'the nihilism of world politics' and trying to focus attention on that which has no existence in such a world politics, indeed in such a world. Politically, the demand exerted on us by the finite context exceeds the content of any finite demand that might be accommodated at the level of government or state. Literally speaking, the infinite demand is nothing, but a massively creative nothing.
Javier Gatti-Hernandez gives us some fireflies. Something flares up in his work--something evanescent, fragile and fleeting--at the edges of existence, and then disappears, like the water into the dark waters of the River Styx. All the faces in these paintings turn away, half-obscured, as if looking for something else, something utterly different and distant, a sovereign moment. If you learn something from his show, then you've learnt nothing; and if you learn nothing from his show, then you've learnt something.
View CATALOGUE
YOUNG ART CRITICS: Alex Ross on Javier Gatti-Hernandez