Simon Leung
Curated by Rirkrit Tiravanija
March 24 – May 19, 2011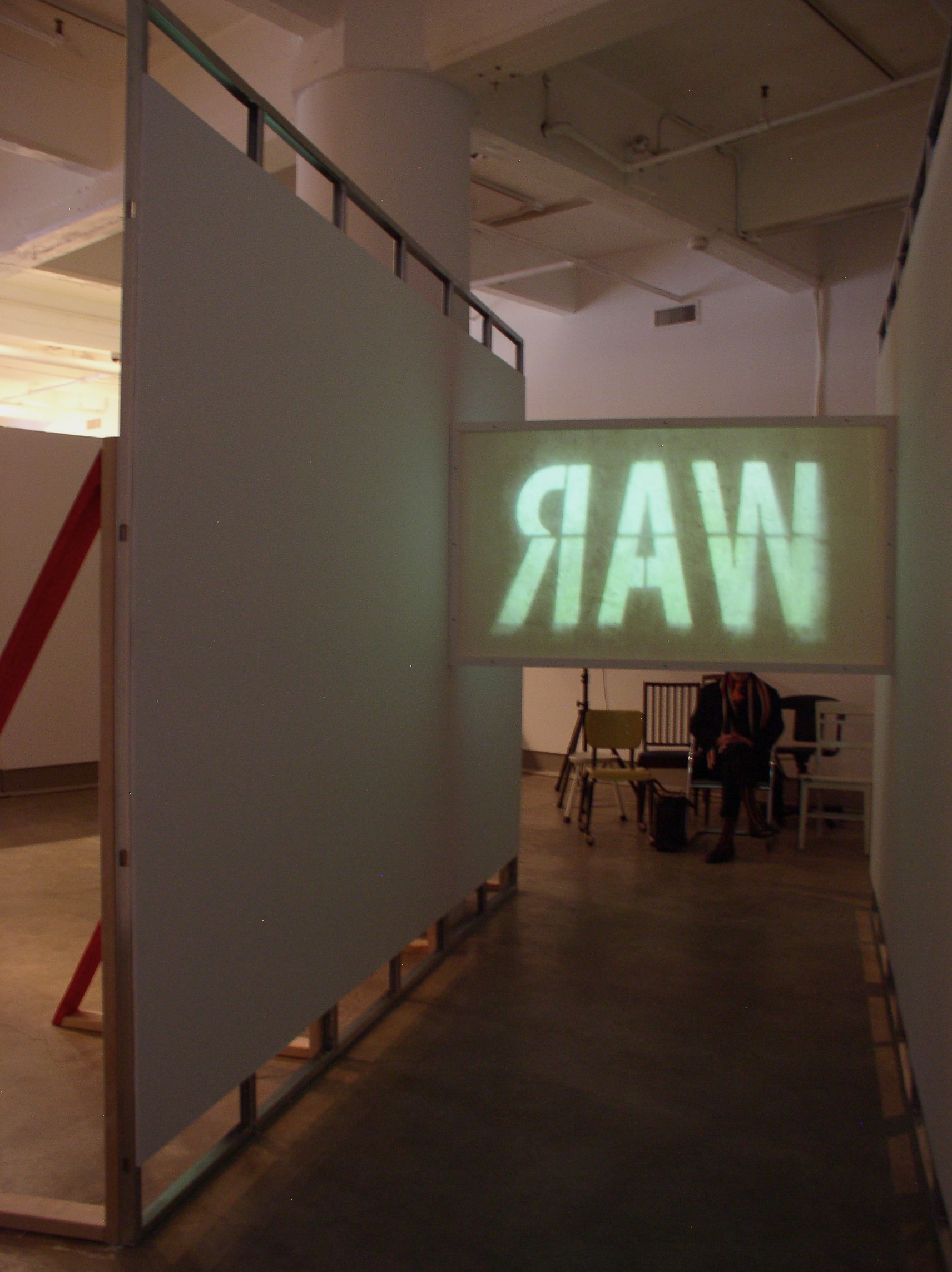 Simon Leung was born in Hong Kong and studied at the University of California Los Angeles, Columbia University, and the Whitney Independent Study Program. His projects in various media include a proposition of Marcel Duchamp's oeuvre as a discourse in ethics; a rethinking of the psychological, philosophical, and political dimensions of the glory hole; meditations on the residual space of the Vietnam-American War; a video essay on the site/non-site dialectic instigated by Robert Smithson's reception of Edgar Allan Poe; "squatting projects" in various cities (Berlin, New York, Chicago, Vienna, Guangzhou, Hong Kong); and an ongoing opera project set in Los Angeles' Griffith Park called The Side of the Mountain. Leung has participated in the Guangzhou Triennial (2008), the Luleå Summer Biennial (2005), the Venice Biennale (2003), the Whitney Biennial (1993), and has also exhibited at Pat Hearn Gallery, the Museum of Modern Art, the Museum of Contemporary Art, the Art Institute of Chicago, the Generali Foundation (Vienna), 1a Space (Hong Kong), NGBK (Berlin), and Sala Mendoza (Caracas). In 2008, he received a Guggenheim fellowship and the Art Journal Award for his essay The Look of Law. He has taught in the Studio Art Department at the University of California, Irvine since 2001. Leung's exhibition at CUE Art Foundation marks his first solo show in New York City since 1996.
Born in Buenos Aires, Argentina, Thai artist Rirkrit Tiravanija is widely recognized as one of the most influential artists of his generation. His work defies media-based description, as his practice combines traditional object making, public and private performances, teaching, and other forms of public service and social action. Winner of the 2010 Absolut Art Award and the 2005 Hugo Boss Prize awarded by the Guggenheim Museum, Tiravanija was also awarded the Benesse by the Naoshima Contemporary Art Museum in Japan and the Smithsonian American Art Museum's Lucelia Artist Award.
He recently had a retrospective exhibition at the Kunsthalle Bielefeld (Bielefeld, Germany) along with a previous retrospective exhibition at the Museum Bojmans Van Beuningen in Rotterdam that then was presented in Paris and London. Tiravanija is on the faculty of the School of Visual Arts at Columbia University, and is a founding member and curator of Utopia Station, a collective project of artists, art historians, and curators. Tiravanija is also President of an educational-ecological project known as The Land Foundation, located in Chiang Mai, Thailand, and is part of a collective alternative space called VER located in Bangkok—where he maintains his primary residence and studio.
ARTIST'S STATEMENT
One night a couple of years ago, I descended into a Manhattan subway station with two acquaintances, a couple, after we exited an event together. Our conversation, somewhat art-world insular and light in tone, turned to Warren Niesluchowski, someone we knew in common. Considering the topic of our discussion, the banter took a somewhat predictable form: we commented on Warren's sartorial flair; his quick and formidable mind; his erudition and many languages; his peripatetic ways. I am quite sure, because this is often remarked upon among people in certain circles—Warren being the drawing of such circles—that we eventually got around to how, although our Zelig-like friend has an uncanny ability to turn up at an opening or a dinner in "any part of the world," no one would be surprised if he did. Warren occupies a singular position among us—he is the cipher through which a 19th century Balzac character or a European interwar dandy springs forth into the present party, drink in hand, gathering momentum as an evening wears on. When the woman of the couple asked how I met Warren, I began to say that it was in 1992 when I had a studio atPS1, and that I had made a work about Warren as my work for the artists-in-residence show that year. But before I could finish she exclaimed, "Ah, so you discovered Warren early!" The way this was said, it was as if I had discovered an exotic island, once remote, but now overrun by tourists-in-the-know.
Warren Piece (in the '70s) was made as a type of reflection on a few remnants of the post-'68 era that were beginning to gather in my mind in the early '90s. Warren's biography (a Polish refugee born in a displaced persons' camp in Germany, an immigrant child to the US, a deserter from the American army between 1968-'75, returning to the US then after), coupled with the '70s atmosphere of PS1, the historical import of its first show Rooms, the rumination on the relationship between 'aesthetic attitude' and the 'real life politics' in the 1960s, and certain biographical congruences between Warren and Vito Acconci, facilitated the making of a work in relatively short order. In retrospect, if I had made Warren Piece quickly, it was in no small part because the first Gulf War was fresh on my mind, and Warren's stance as a deserter from an earlier war enunciated something with the urgency of necessity. Namely, that desertion is a form of ethos—a trans-valuation of pathological patriotism that is all too common in a nation at war. Furthermore, it was through desertion and exile that Warren 'became Warren'—the multi-lingual Euro-American sophisticate who, for some, still performs 'the spirit of the '60s'. In one part of Warren Piece, called nom de paix, I traced the pronunciation of Warren's name ("Warren" being a name he took up while living in exile—a name containing a "war" within) as it progressed from birth through immigration, desertion, exile and return. To be a deserter, I surmised, was to assume a name/no (nom) of peace (paix), a no less enabling identity than the nom de guerre.
War After War is, in many ways, made to accompany Warren Piece, almost twenty years later. Unlike the earlier piece, this has been much longer in the making—since when? 2003? 4? 5? I can't entirely remember, but I know that I began to think about making a new work with Warren when this country entered into a flagrantly endless war. This was because it was around this time that the circumstances in Warren's life had again shifted. For most of the last decade, maybe all of it, Warren has lived the life of a cosmopolitan nomad ('cosmopolitan' my word, "'nomad' his), staying with friends across Europe and America after losing his New York apartment, and then eventually, perhaps atavistically, finding a more or less permanent bed in Warsaw. Still, Warsaw being far from the main stage, his travels consequently persist," and more than a dozen times I have heard others wonder aloud, especially when War is nigh, "But how does he manage to…?" At times, Warren has been described as a "professional guest," but I believe that he might not identify with such or any profession, that he would simply "prefer not to." Perhaps what I am interested in is not so much to dwell on the identities of our choosing—say "a nomad"—but those that are less motivated by choice than are the effects of circumstance. To be constantly on the move is a difficult life, and I am reminded of how Warren was born a refugee—a displaced person. Is the life of War askesis or habitus?
It is commonplace to believe that wars mark the times in which we live—that even if we do not live under the direct threat of war's violence, we understand ourselves in relationship to the state-sanctioned killing of others, elsewhere, in our time, and at times in our name. In this work, I once again return to a thinking of how war resides in us. I return to many motifs from the earlier one, but the tone has shifted (for example, Warren sings the same songs he did two decades earlier, but I think the songs resonate differently now), and what was previously several wall pieces and three videos have been distilled into one single-channel video. Perhaps this condensation is indicative of how this work is more than, or beside, or failing at, being "about Warren"; the recording of a tone, provoked by the precarious nature of a life spent in need of being welcomed.
CURATOR'S STATEMENT
Simon Leung has been redefining the negotiation of territory and boundaries of identity and culture, both in physical and metaphorical ways, for the past fifteen years. Born in Hong Kong (then a British Territory), and relocating to Northern California with his family at a young age, Leung has, in his works both past and present, consistently reflected on cultural conditions that run parallel in daily and intellectual life.
Since the early nineties, Leung has been making what he calls squatting projects'—a group of works based on the performative gesture of the squatting body—a move he perceives as a commentary on cultural specificity, and a temporary occupation taken up in an economic and sociopolitical position. Squatting is common amongst peasants or working class laborers in China and many other Asian cultures. A position of rest—an approximation of a seated position—Leung's action can be seen as an intervention, relocating the subject's position within a cultural landscape. In a 'squatting project', Leung both intervenes and interacts with the context of his occupation. These actions have taken shape as performative interventions as well as in various material forms in various locations around the world, from street posters installed site-specifically in Berlin, to a video installation in Guangzhou, China.
Leung's interest has been in the shape of the audience's response, whether reaction or inaction, to the position that his body takes. Whereby a position occupied in one culture—such as squatting—necessitates questions and reactions from another; the position of a subject in one context becomes objectified in another context. In the to-and-fro of reading and misreading, the boundaries of a subject are defined.
Leung has, in more recent works, taken up the notion of slippage in the narratives of identity and representation. In his video and filmic work, Leung investigates the formation of a subject through the use of language. In 2007, Leung installed POE, a filmic video collaboration at Wave Hill in the Bronx, featuring Yvonne Rainer, Warren Niesluchowski, and the late Gregory Poe (a distant relative of the poet) as players who weave through the spaces and works of Edgar Allen Poe in order to engage in a psychographic attenuation between allegories of the internal and external dialectics of life and art. A three-channel version of POE was recently installed at Las Cienegas Projects in Los Angeles.
For his installation at CUE Art Foundation, Leung furthers his video investigation into the life of Warren Niesluchowski (the subject of a 1993 project at PS1, and more recently a participant in the Polish segment of POE).
Well known for his vigorous intellectualism and as a professor to younger artists, Simon Leung has been practicing the art of underestimation for the past two decades. Quietly, he has made a meaningful and insightful body of work known and appreciated in certain spheres, but with little exposure. With an interest in presenting his work in this context, I would hope for more of us to be exposed to the ideas and the complexities within Simon Leung's work.
View CATALOGUE
YOUNG ART CRITICS: Cole Akers on Simon Leung