Michael Minelli
Curated by Sowon Kwon
November 19th, 2011 – January 14th, 2012
Opening reception Saturday, November 19th, 6-8pm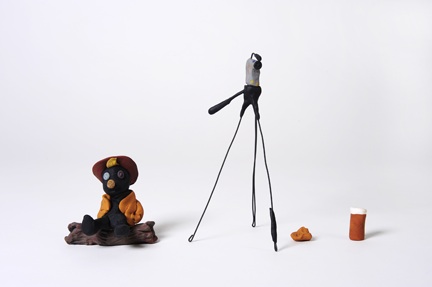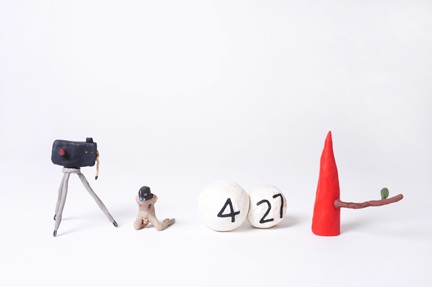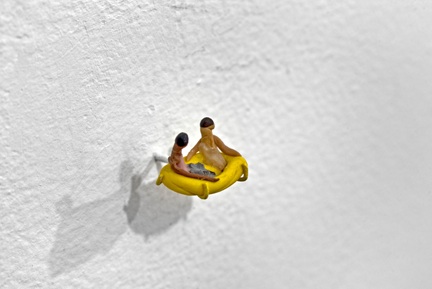 Michael Minelli's practice is sculpturally based, insofar that he believes meaning is both created and informed by the material relationships we encounter within our daily lives.
Minelli's work includes object making, drawing, writing, photography and performance; all with an eye upon the prickly alliance between popular media discourse and the individual subject. As a member of the artists' collective REHAB, Minelli's video and performance work were part of a weekly broadcast on Manhattan Public Access Television from 1987-89. In 1993, Michael participated in the Whitney Museum's Independent Study Program and went on to receive his MFA in Sculpture at UCLA in 1999.
Minelli has exhibited his work in the United States and in Europe since 1987. In 2006, he was commissioned by The Wexner Center for the Arts to create a unique work for the exhibition Shiny. This work was exhibited in the 2010 international exhibition entitled Only Now at the Design Museum of Holon in Israel. Minelli is a founding member of WPA in Los Angeles; a collective exhibition space formed in 2009 in response to the rhetoric and reality of fiscal depression. His recent exhibition Black Boxesopened at WPA in November, 2011. This marks his first solo exhibition in New York City.
Sowon Kwon works in a range of media including sculptural and video installations, digital animation, drawing, and printmaking. Her recent work explores portraiture, perception, and historical memory as our bodies are increasingly submitted to and made accessible through technology.
She has had solo exhibitions at The Kitchen in New York City, Matrix Gallery/Berkeley Art Museum, and the Whitney Museum of American Art at Philip Morris (now Altria). Her work has also been featured in many group exhibitions in the US and abroad at: The New Museum of Contemporary Art, ICA Boston, MOCA Los Angeles, The Queens Museum, The Yerba Buena Center for the Arts in San Francisco, Artist Space, The Drawing Center, Artsonje Center in Seoul, Korea, the Gwangju Biennale, the Yokohama Triennale in Japan, and San Art in Ho Chi Minh City, Vietnam. She is a recipient of grants from The New York Foundation for the Arts in Sculpture, The Asian American Arts Center, and The Wexner Center for the Arts in Media Arts. Kwon has taught at The Cooper Union, Princeton University, and the Vermont College of Fine Arts. She has an upcoming solo exhibition at Gallery Simon in Seoul, Korea in the fall of 2012.
ARTIST'S STATEMENT
When I started making work in the 1980's, Richard Gere was rumored to have been compromised by a gerbil (or vice versa), actor/President Ronald Reagan was in office and the internet was in its infancy. Twenty plus years later, the politics between fantasy and spectacular culture are still in play, but now the landscape of how one speaks and the audience(s) to whom one is speaking lend a whole new level of feedback to the mix.
Whether speaking directly to the camera, modeling raw plasticine or rolling paper into vacant microphone stands, my work is an investigation of what it means to understand something through the process of making it. I've always seen that activity as an open proposal; one where a direct engagement with materials is an opportunity to challenge notions of mastery, totality or spectacle by resisting their implications with respect to agency. Few of us as artists can fully anticipate the conditions under which a work may be seen or understood, but we can approach that making with an awareness that such a moment will come.
The works in this exhibition offer me an opportunity to explore how meaning is informed through labor, memory, narrative and material content; all constituent parts that make up America's matrix of pleasure and conspicuous consumption. My practice is an attempt at shaping the shit that passes through our homes and through our heads into a response.
CURATOR'S STATEMENT
Michael Minelli's work is carefully and singularly made, hand made for the most part. Its modesty in this regard is as purposeful as its engagement with the big, the bang, the speed, and polish of our world as mediated by mass culture, is ambivalent. His work lays bare the extent to which we are irrevocably made, remade, and struck dumb in mass culture's wake. But at the same time his efforts offer up individual subjectivity, vulnerable and imperfect as it is, culling along and giving it a go anyway. His work counters consumerist spectacle and bombast without reproducing it (a neat trick), and without cynicism, sanctimony, or panic (well, maybe a little bit of panic).
Along those lines, Minelli's embrace of material culture, high and low, strikes me as incredibly honest, i.e. we live here, most of us. This taste for breadth and complexity makes for an ambience around the guy as someone you could talk to about most anything. I can draw a line from the Carpenters' Kind of Hush to the Bread and Puppet Theater, to the nuances of signification in Mira Schor's paintings, to Viktor & Rolf dress shirts, to the best Bela Lugosi impersonations, to punchy reminiscences of 1990s Soho to inevitably, grief and mourning. Start another line from the tickling fact that the father of Samwise is Hamwise Gamgee and go to (speaking of patrimony and mourning) Sculpture with a capital S, for Minelli is not without erudition. Follow that line from objects specific to fields expanded, to projects continuous, to critiques institutional, to aesthetics relational (for we teach) and rest at sculpcha. Sculpcha boils down to something like faith in the curiosity and cognitive intelligence it takes to push materials to do stuff viably if unexpectedly (for we teach). How do you fuse sequins and puka shells to cast urethane and Dr. Kevorkian or is that Rupert Murdoch? Apes in uniform to Pippi Longstocking? Or what mass/volume/weight the plaster, so that the talk bubble hangs just so--too low to hug, too genial to kick? How to roll then unfurl paper, unfurl and roll again so that it might speak, or at the very least hold its own amidst other self-respecting and/or more load bearing vertical bodies in the room? Maybe some color. What color is "pathetic glamour"? Which black (waxed matte as in Mike's mics, or gaffer tape shimmer in the wonky boxes) invites the possibility of a public sphere, or perhaps even an eleventh hour rescue? At what angle to jut tubing so that we peer in and around it in situ, but also duck at its photo? How to make the word (or the song lyric) flesh? All of this is not easy. And all of this is to say that for its spinning and seemingly arbitrary matrix of connections, Minelli's work is precise.
I mentioned teaching earlier. I have noticed many a young art student completely at ease with speedy digital interfaces and time-based pro editing tools who also seek out other kinds of intelligences. If the growth of small DIY initiatives and industries and the interest and desire for craft and craftsmanship in art schools are any indication, Mike's work heralds much. His work also teaches me perhaps paradoxically, that there is a life and material logic in art that is distinct from that of the artist. This potential should be respected, celebrated.
View CATALOGUE
YOUNG ART CRITICS: Megan Hoetger on Michael Minelli