Jerry Moriarty
Curated by Art Spiegelman
September 9th – October 16th, 2004
Opening Reception: Thursday, September 9th, 6-8p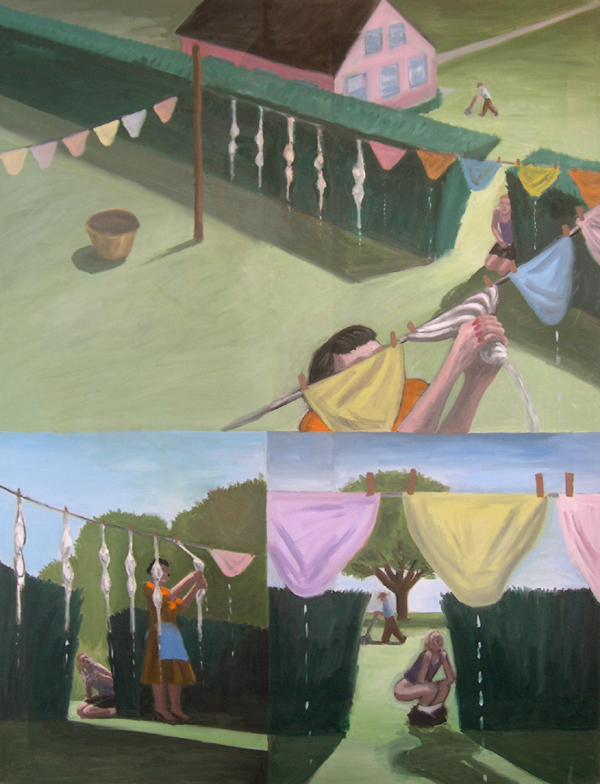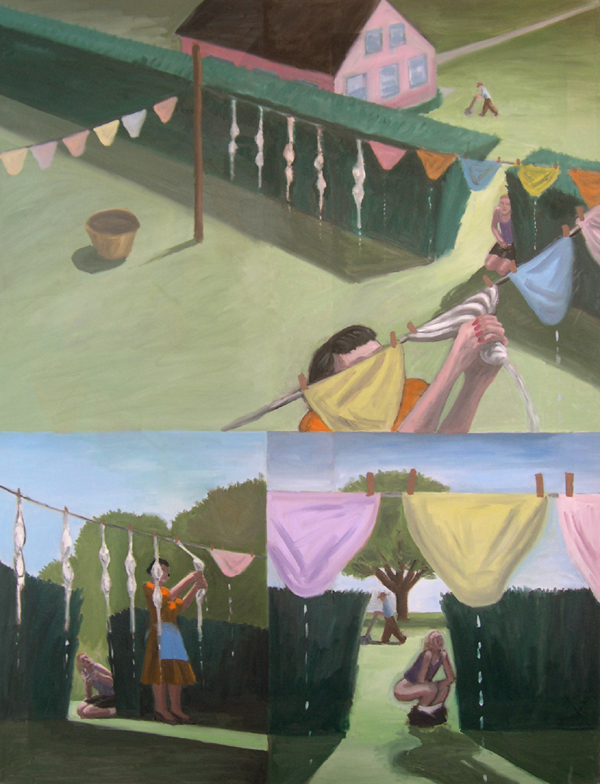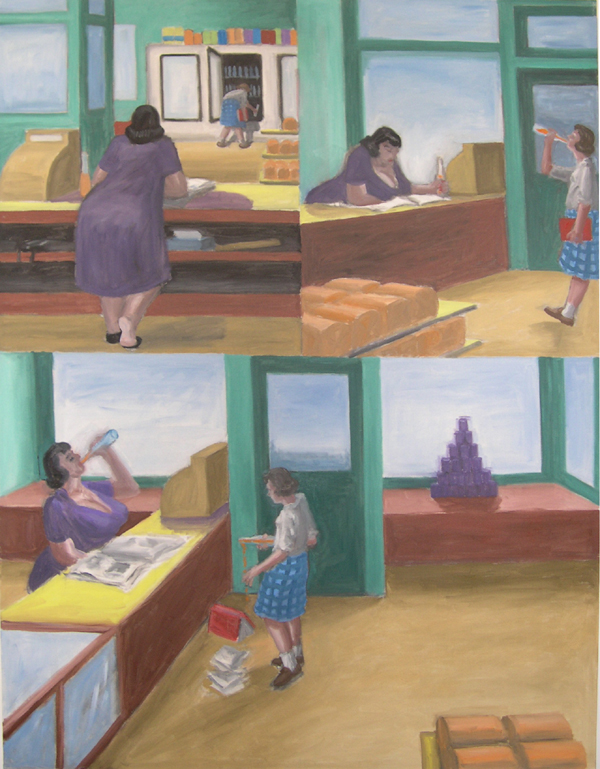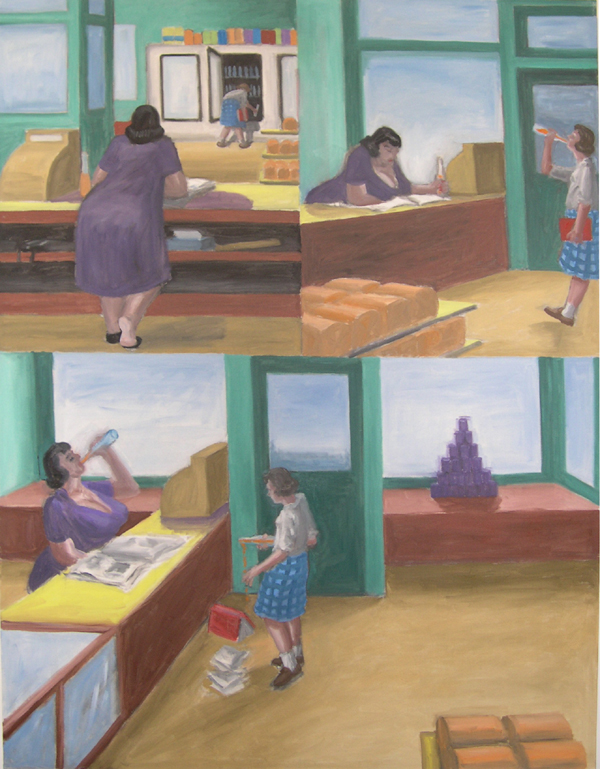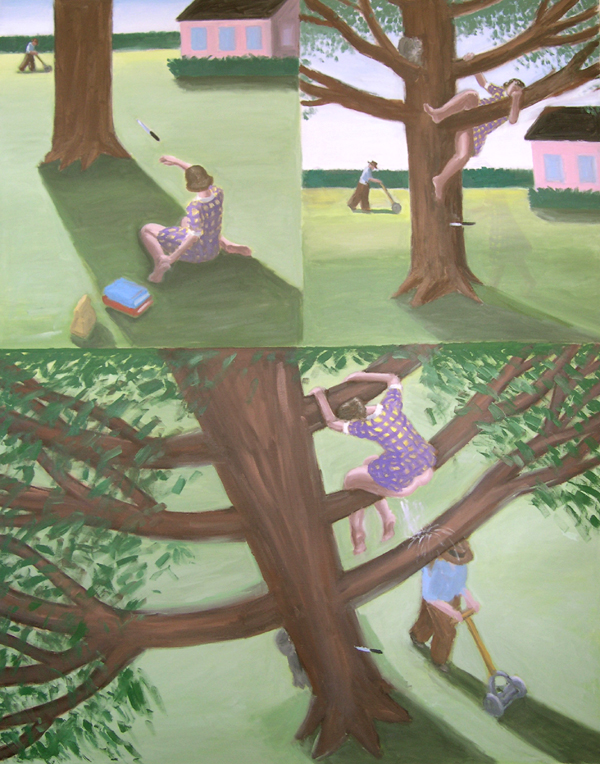 Jerry Moriarty was born in Binghamton, NY on Jan. 15, 1938. He had a Roy Rogers and Superman childhood until his father, Jack, died in Jan. 1953. Although Jack was from a working class background he encouraged and supported his sons' art. Binghamton was an industrial town with little art available during the 1940's and early 50's. To become more involved in art Jerry sent away for The Famous Artists Course seen in the backs of comics. It worked and by 1956 he was enrolled in Pratt Institute. By 1960 he had a BFA. After graduation Jerry worked as a free lance magazine illustrator to support his Abstract Expressionist painting. By 1963 he gave up abstraction and started teaching at the School of Visual Art-forty years later he's still there. In 1974 Jerry had his first one man show in SOHO, in 1984 another in Chelsea and the last was in 1999 at the SVA Museum. He received a NEA grant in 1977. Reaffirmed, Jerry renewed his art by doing a personal comic called Jack Survives connecting him with his dead father. Art Spiegelman and Francois Mouly's RAW published a one-shot book of Jack Survives in 1984. The next time Jack appeared was in a SVA subway poster in 1986...the first of five subway posters for SVA.
Art Spiegelman was born in Stockholm in 1948. He won a Pulitzer Prize in 1992 for his two volume Holocaust narrative in comix form, Maus, which has since been published in over 18 languages. His work has been exhibited in many museums and galleries here and abroad, including a show at the Museum of Modern Art in 1991. He will be included in L.A. MOCA/Hammer Museum's planned 2005 joint exhibition,SHOW & TELL, 15 Masters of 20th Century Comics. He taught the history and aesthetics of comics at New York's School for Visual Arts (where he first met Jerry Moriarty) from 1979-1986 and continues to lecture on the subject internationally. His comics, writing and drawings have been published in many periodicals, including The New Yorker, where he was a staff artist and writer from 1993-2003. A collection and memoir about his New Yorker work will be published by Pantheon Books in 2005, which is currently releasing his latest book, In the Shadow of No Towers, a gathering of his broadsheet comics pages about 9/11 and its aftermath.
ARTIST'S STATEMENT
There was this kid in a small town in the 1940's who drew Superman and got attention for it. By 1950 Superman fantasy gave way to war and horror comics realism. Not much art in this kids town so he took the Famous Artist Course advertised in comic books. The 12 famous artists were illustrators and became fresh influences. In 1956 this kid went to art school in NYC to become an illustrator. There he found it was cooler to like DeKooning than Jack Davis or Norman Rockwell - so he did. This kid painted abstractions and was cool - he thought. Illustration classes kept his figurative skills alive. After graduation his figurative art became illustrations for "girlie magazines". At night in the small room he rented this kid painted large abstract canvases. One night he decided to put 4 paintings together to make a square of 4 walls. He sat in the middle and awaited revelation. It didn't come. Instead the abstract canvas walls spoke to each other and left this kid out. Saddened at his uncoolness he returned to "content" and tried to find it's meaning in him. This kid swore he would never be seduced by Art or cool again - but of course he has...
The girl paintings I call Sally's Surprise. She is me at age 12 in 1950. During those pre Playboy days puberty came as a huge surprise. Doing me at age 12 from memory felt phony, so I invented Sally. She forced me to think less as a male which is a relief at my age. None of the events actually happened but parts did.
The pictures of me and my dog when I was 7 years old are actual memories remembered at 65. That is why I am a child sized 65 year old in those paintings.
I do two things that annoy my conservative leaning brain: I don't wear my glasses when I work (need them to read since 40) and I use no reference material. From first sketch to finished painting-no glasses, no copying. Without glasses I defeat my eyes proving to me that my art is not about my eyes. Without something to copy I challenge my skills and I am forced to invent. Illusion is important to me I want the tension of reality to exist in my pictures. I want the image to be believed even though it has reality mistakes...what I choose to leave out or what I don't remember make a Symbol-Reality which is stronger than reality, I think.
I am a "content freak" and am easily engaged in subject matter before formalism. Form serves content in my pictures. By dividing some pictures into 3 panels form allows the content to show time and motion-a beginning, a middle and an end. This is what I love in movies, comics and music...especially in it's reproduced state...it's flattest, least theatrical state. I prefer movies on DVD, music on CD, paintings in books. I live in Flatland, my reality is flat. For me art is private and intimate entering through the eyes alone. While I work I usually listen to jazz, always a saxophonist. I want to hear the sax improviser playing his own music and making on the spot choices. There are leaps of faith. There are good moves and bad moves and he reminds me how much it means to "reach". In a sense Jazz is al that remains of my original encounter with abstraction and cool.
CURATOR'S STATEMENT
by Art Spiegelman
I first saw Jerry Moriarty's paintings twenty four years ago when my wife, Francoise, and I were beginning to plan RAW, our "avant garde" magazine of comix. A six foot square painting walked past us on its way to the wall of Jerry's cluttered loft, the artist's sneakers and neon orange pants cuffs visible below, as his voice emanated from behind the picture, narrating the upstate New York childhood memory depicted on the canvas. There's always a story behind Jerry's paintings. In one memorable image he even portrays himself having ripped through from behind the canvas, a "time traveler," smiling protectively down from the ceiling into a vision of his father reclining with a newspaper in front of a blank TV screen the night before he died in 1953. The child as father of the man. As Jerry puts it, he's a "Pop" Artist- making images that continue a dialogue with the world of his father.
Jerry is certainly not a Pop Artist of the Lichtenstein school who condescendingly borrows from mass media to comment on it ironically; he's a storyteller sharing intimate memories, whose sincere love and understanding of comics narrative led him to make some comix pages that became central to RAWmagazine, and led to many cycles of sequential paintings. Self-aware, but never self-conscious, his multi-panel images are distillations of his remembered past and his fantasies. They have the elliptical sensitivity of a Raymond Carver story told with the blunt simplicity of an Ernie Bushmiller Nancy comic strip. They are all composed with the elegant precision of an Edward Hopper painting-each composition realized through a slow, painstaking process of painting it over and over to find its essence. Jerry shrugs and explains that "I don't work well in real time." He does, however, succeed in making past times real and present.
His recent Balthus-inflected "Sally" pictures, which make up much of this exhibition, use a pastel palette of comic book colors to create an eroticized Norman Rockwell fifties pastorale that acknowledges body functions. There's something ingratiating and innocent about the paintings, undercut by a current of ornery and discomfiting honesty. In an even larger space I'd love to have shown a full retrospective of the artist's battles with times past (his disinterest in the fashions and commerce of the art world makes his body of work difficult to experience unless he walks them past you in his loft) but since all his work is retrospective, this will have to do... for a time.
View CATALOGUE
YOUNG ART CRITICS: