Clark V. Fox
Curated by Mary Heilmann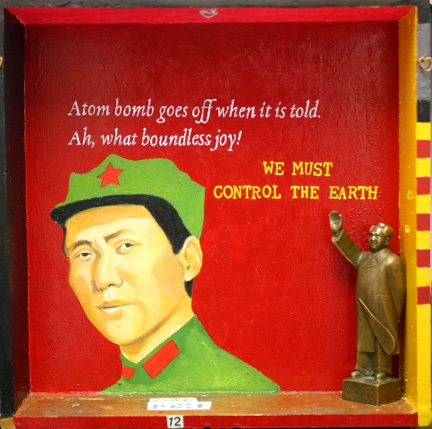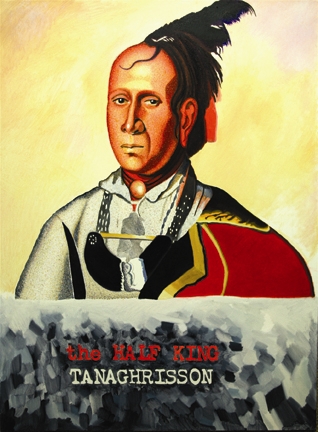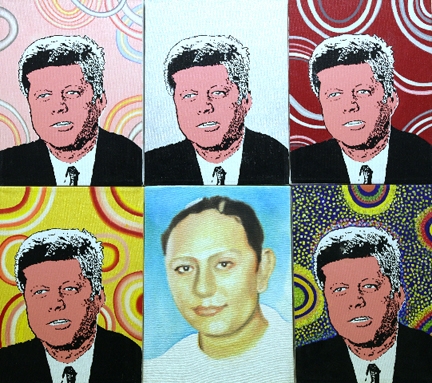 Clark V. Fox started making art full time in Houston, TX at age 5 and never slowed down since. Fox studied with Japanese art master Unichi Hiratsuka (1895-1997) in the early 1960's. He took a figure drawing class with the painter, Lennart Anderson (American, 1928-) in Brooklyn 1965-1966, painted on projects with the color field painters, Gene Davis (American, 1920-1985) and Thomas Downing (American, 1928-1985), but is largely self taught. Any idea of organized education was abandoned to work against the war in Vietnam. He copied portrait paintings at the National Gallery of Art in Washington, D.C. His work is in numerous public and private collections including the National Gallery of Art, Corcoran Museum of Art, Phillips Collection, Katzen Museum of the American University, The George Washington University, and The Library of Congress, The National Museum of American Art, The Smithsonian Institution, and The Washington Post Art Collection, Washington, D.C.; The Carnegie Institute Museum of Art, Pittsburgh, PA; The Cooper-Hewitt Museum, New York, NY; The Everson Museum of Art, Syracuse, NY; The Metropolitan Museum of Art, New York, NY; The Palm Desert Museum, Palm Springs, CA; The Philadelphia Museum of Art, Philadelphia, PA, Washington & Lee University, Lexington, VA; The Delaware Museum of Art, Wilmington, DE; Jane Vorhees Zimmerli Art Museum at Rutgers University, Brunswick, NJ; and Monclair Museum of Art, Monclair, NJ. This exhibition at CUE Art Foundation marks Fox's first solo show in New York in thirty years.
Mary Heilmann is an artist who has lived and worked since 1968 in New York City and in New York and Bridgehampton since 1995. She is represented by 303 Gallery in New York, NY and Hauser Wirth Gallery in London and Zurich. She makes prints with Pace Prints in New York, NY and Crown Point Press in San Francisco, CA. She is currently showing work at the New Museum in New York, NY, an exhibition curated by Liz Armstrong which originated in Orange County, CA. She will have another show at 303 Gallery in January 2009, accompanied by a group show which she will curate.
ARTIST'S STATEMENT
I see myself as a history painter through the use of icons. American heroes were people that I could look up to. I painted these heroes for many years. Then as my interest grew, I read more and more books to try to get into their heads and make history and these figures come more alive when I painted them. I've lectured to groups like the National Society Daughters of the American Revolution and told them the truth. As you can see in this exhibition, I discovered that they all seem to have more than a little blood on their hands. Well...nobody's perfect are they?
CURATOR'S STATEMENT
by Mary Heilmann
Clark is an Enigma
Clark is an enigma. I met him soon after I arrived in New York through my friend, Joe White. Joe, whom I knew in San Francisco, was a part of an intense alternative art scene that was connected to the San Francisco Art Institute. The attitudes of these people were vastly different from what I found here and I liked them.
Clark is Native American. He comes from Texas and is of Cherokee and Powhatan descent. His people lived in Tennessee until they were moved from their land by the US government. That was in the early 1800's. The people moved throughout the South. About a hundred years later, Clark was born in Austin, TX. Then the family moved to Hawaii, then back to Texas where Clark first saw art at the Menil Foundation in Houston. Even though he was just a little boy, he knew from then one that he wanted to be an artist. He and his little friend walked up and down the street trying to sell their pictures door to door ? I don't know where they got that idea. The family then moved to Alexandria, VA. When Clark was in high school his classmate was David Lynch. I tell this because they both are brilliantly acculturated while at the same time being weird and uncanny in their take on life and their representations of it. The American surrealism of David Lynch in movies like Wild at Heart and Lost Highway relates to Clark's constant depiction of Mr. Peanut, giving him iconic status. Other such images are a stylized dollar bill graphic of George Washington or five dollar Abe Lincoln, except in color. Stylized "Indian" images also appear, as do other generic American icons. With insane focus, repeating, duplicating and re-doing and re-doing these pictures again and again with an outsider artist's obsessive relentlessness. But he is not "outside." Clark is everywhere. He founded and managed for fourteen years the Museum of Contemporary Art in Washington, DC where he and his cohorts exhibit the work of established and newly discovered artists. He is represented in many collections, including the National Gallery and The Dorothy and Herb Vogel Collection. He travels all the time, often in South America and all over the United States, exhibiting his paintings and constantly working wherever he is.
But back to his painting: His iconic imagery combines to convey a rich take on reality, the state of the world, our country, and his own unusual psychic identity and nature. The familiar images of JFK, phallic Planter's Peanut man, big dimply oranges, Abe Lincoln, Chinese Characters, ears of corn, buffalo, maps, generic icons that are poetic stand-ins for much more than is seen, simile, metonymy, synecdoche. Yes. His pictures are poems.
His travels, his social enterprises and his generous relationships with people are all a part of his work. He is an endless storyteller, stories which I am determined to capture in sound or print, someday. This is just the beginning. Clark's show here at CUE Art Foundation is just the beginning.
View CATALOGUE
YOUNG ART CRITICS: Emily Warner on Clark V. Fox