Cecelia Condit
Curated by Mary Lucier
September 6 - October 13, 2008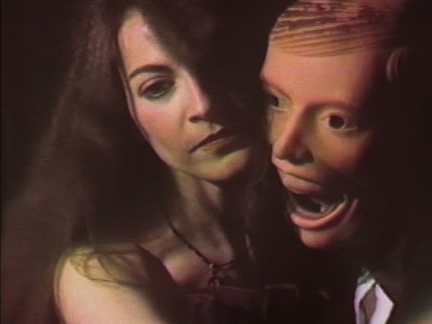 Cecelia Condit studied sculpture at The Pennsylvania Academy of Fine Arts in Philadelphia, PA; received a B.F.A. in sculpture at the Philadelphia College of Art, and an M.F.A. in photography from Tyler School of Art, Philadelphia, PA. She has received numerous awards for her work including fellowships from The John Simon Guggenheim Memorial Fellowship, the American Film Institute, the National Endowment for the Arts and the Mary L. Nohl Fund. Her videos have been widely shown internationally at institutions and festivals including the Biennale de Paris; The Museum of Modern Art, New York, NY; the Carnegie Museum of Art, Pittsburgh, PA; The Institute of Contemporary Art, Boston, MA; and the Milwaukee Art Museum, WI. She is currently Professor of Film and Video and Director of Graduate Studies in the Department of Film at the University of Wisconsin-Milwaukee. Condit's exhibition at CUE Art Foundation marks her first solo show in New York.
Mary Lucier has made work in many mediums including sculpture, photography and performance, but has concentrated primarily on video and installation since 1973, producing numerous multiple and single-channel pieces. She arrived in New York City in 1974 and has lived and worked there and in upstate New York since. Her work has been shown internationally in museums, galleries and festivals and is represented in many public and private collections including the Whitney Museum of American Art, New York, NY; the San Francisco Museum of Modern Art, San Francisco, CA; The Museum of Modern Art, New York, NY; ZKM - Museum fur Neue Kunst in Karlsruhe, Germany; the Museo Nacional Centro De Arte Reina Sofia in Madrid, Spain; and the Milwaukee Art Museum, WI. Lucier has been the recipient of grants, fellowships and commissions from public and private foundations including Creative Capital, the Rockefeller Foundation, The John Simon Guggenheim Memorial Foundation, the National Endowment for the Arts, the New York State Council on the Arts, Anonymous Was A Woman, and the Nancy Graves Foundation. Recently, she was named recipient of the Skowhegan Medal for Video for 2007. Lucier and Cecelia Condit met in 1981 and their dialogue about work has been lively and ongoing.
Cecelia Condit is a master of single-channel video. Since her first tape piece, Beneath the Skin in 1981, she has employed various recurring devices such as narration, mimicry and masks to present stories of profound dislocation and unease in women's lives. As expressed through their relationships ? to men, to other women (primarily mothers and sisters), to children, and even to animals ? these women's tales dig deep into our own psyches. The work speaks powerfully of dysfunctional families, night terrors and a certain gnawing, horror-within-the-ordinary ? the quality of a lingering nightmare one can't quite banish, even in the plain light of morning. The cinematic beauty of Condit's visuals works effectively in contrast to the narrative line which often recounts dark dreams of pursuit and capture. There is a clear development in Condit's early work of woman-centered themes, from the bizarre story of murder and deception in Beneath the Skin, to cannibalism in Possibly in Michigan, to the rather bitter tale of struggle between youth and old age in Not a Jealous Bone, to the more subtle depiction of middle class married life in Suburbs of Eden.
Whether the leading persona is a lone narrator, still in shock and amazement at her own (true?) horror tale, a cynical pair of young women bent on revenge, an older woman at war with the narcissistic beauty for the prize of eternal youth, or the cool, sleek suburban couple trapped in "paradise," Condit identifies the anxiety and apprehension that shadow women's lives. She deals with that part of female experience ? whether inculcated, remembered, or mythical ? that invokes witches, nervous breakdowns, neurasthenia and despair. In what might be called her "middle period," Condit addresses conflicted love between mothers and daughters in the multi-generational Oh, Rapunzel (2008); cross-species identification in Why Not a Sparrow (2002-2005) and All About a Girl (2004); and the betrayal and cruelty of pre-pubescent friendship in Little Spirits (2005). In her most recent work, shown for the first time at CUE Art Foundation, the aggrieved "Mother" of Oh, Rapunzel becomes the venerated "Mom" of Annie Lloyd (2008). Here, the narrative voice that addresses us throughout all of Condit's work has modulated and it is a fonder, filial narrator who guides us through the work's 18 minutes. Condit still excavates the past and references dreams in this portrayal of her mother at 90. There are vivid memories, but all the demons have gone. We see Annie Lloyd and the artist-daughter in various stages of their lives, through diverse media ? film, photography, video ? in black and white and color, brilliantly edited into an affecting portrait of aging and acceptance. As Annie Lloyd says:
"Maybe looking to the future,
and going up through the steps of the past
is how we learn to die."
ARTIST'S STATEMENT
I consider myself a storyteller whose work swings between beauty and the grotesque, humor and the macabre, innocence and cruelty. My videos explore the dark side of female subjectivity and address the fear, aggression and displacement that exist between ourselves and society; ourselves and the natural world. In the psychological landscape of contemporary fairy tales, I have tried to chart a course free of stereotypes, addressing the ambiguities between personal identity and the external expectations which lie just beneath the surface of everyday life.
Over time, I find that I have carved out a somewhat uneasy terrain, where commonplace experiences turn uncanny and the objective sense of what is "real" no longer controls the heart of the narrative. I have found my voice in that eerie space between waking and sleeping, where the dark forest of dreams presents perils, unclear guideposts and few to trust. Perhaps it is because of the importance of dreams in my work that masks have been so significant. Masks can be put on or taken off. They can be funny or they can hide frightening possibilities ? always suggesting insights into the complexity and subtleties of human relationships.
Music also seems to come from a primordial space that sits just outside the frame, always loaded with irony, danger or both. It sets the tone and clarifies what I want the viewer to experience. Formerly, writing the lyrics and putting them to music was the first and perhaps the most important part of my production process, often taking just as long as the shooting and editing combined. Recently, the songs have been replaced with instrumental or electronic compositions. I have begun to think of music as a strange language - both intimate and very foreign. It is able to express sensations that I cannot say with either spoken words or visual images.
In my most recent video, Annie Lloyd, I have discovered a voice where troubled spirits do not haunt the gentle thoughts of either my mother or me. I focus on a very sturdy present tense and a past that is more forgiving. Working with my very old mother, we have come together to form a new relationship that may only have been possible during her last few years. In Annie Lloyd, we spin stories into a dance of identities between mother and daughter, weaving tales of remembering and becoming.
CURATOR'S STATEMENT
by Mary Lucier
Blending so-called high and low genre, the Arts & CraftsMovement anticipated much that we now think of as postmodern. Many of the formsthat concerned William Morris, for example, including wallpaper, carpets andfloor runners, were not only designed for domestic use, but also engaged visualtraditions that deployed imagery as pattern, muting or deflecting the narrativeof a "scene." Many other "Other" traditions likewise shareexactly these features, from the Cubism of African sculpture to the pottery& tapestries of Central and South America, and of course the AmericanSouthwest. Tucson'sCynthia Miller, a painter whose work reproduced on book covers has been avisual signature of Chax Press for 20-plus years, pulls these different elementstogether with what I think she might call a Southwestern eye, and mostdefinitely a Southwestern imagination.
The objects envisioned are simple - quail, a tea kettle, aflower pot - but seldom used simply. Rather, like the blue deer, the red pony orthe red and yellow birds, each is cast so as to let in many possibleconnotations. Two crows represent two crows, yet they completely reframe thespatial relations of the two vases, one white, the other not (or the thirdvase, half hidden red against orange in the leftmost field). The result is apainting that conveys a sense of anxiety without ever telling why. Yet look atthe lush leafwork about the crow on the right, or the transparent foliage aboutthe darker vase.
The fields on which these translucent images sit arethemselves visually rich, not unlike the flowers surrounding the road behindthe blue antlers of Out West. Thebackground tones often proceed from pink or red or red-orange to blue or blue-green.At times I think this figures the seasons, at times the hours in a day, attimes I think it is there precisely to resist figuration.
YOUNG ART CRITIC CATALOGUE ESSAY: Kerrie Welsh on Cecelia Condit