Adiwit Ansathammarat
Curated by Kay Rosen
March 12 – April 18, 2009
Exhibition opening: Thursday, March 12th, 2009, 6-8pm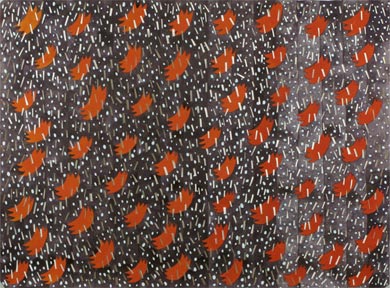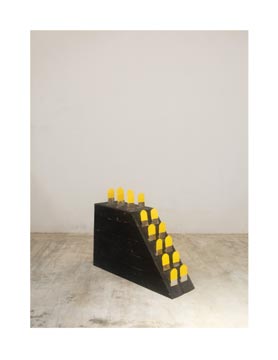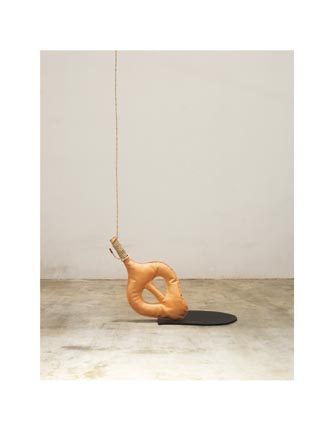 Adiwit Ansathammarat was born in Bangkok, Thailand. He left Bangkok at the age of thirteen to study in Edinburgh, Scotland for four years. Then he returned home to Bangkok to resume his studies and received a BFA in Fine and Applied Arts with second-class honors from Chulalongkorn University, the oldest and one of the leading universities in Thailand. He received both post baccalaureate degree and MFA degrees from the Department of Drawing and Painting at The School of The Art Institute of Chicago. He has received many awards from the school and was nominated for a Joan Mitchell M.F.A. grant in 2007. His work has been exhibited widely in Thailand, Korea and the United States. Ansathammarat's exhibition at the CUE marks his first solo show in New York.
Kay Rosen is a Midwest-based artist who teaches at the School of the Art Institute of Chicago. For over thirty years Rosen has been creating paintings, drawings, multiples, collages and installations on walls, billboards and buildings where language is the primary imagery. Rosen's work has been exhibited nationally and internationally, including at The Museum of Contemporary Art, Los Angeles, where she had a retrospective exhibition in 1998-99 titled, Kay Rosen: Lifeli[k]e; MASS MOCA; the Whitney Biennial 2000; La Parola nell'arte, MART- Museo de Arte Moderna e Contemporanea di Trento e Rovereto, Italy;Kay Rosen: Big Talk, Dunedin Public Art Gallery, New Zealand; and Prospect.1 New Orleans. Solo exhibitions of her work were presented in 2008 at Yvon Lambert Gallery in New York City and Paris, and at Ingleby Gallery, Edinburgh, Scotland. In the fall of 2009 she will have a solo exhibition at Klosterfelde Gallery, Berlin. All three galleries represent her. A book about Rosen's work, Kay Rosen: akak, will be published by Regency Art Press Ltd., New York City, in November 2009. Rosen has received three National Endowment for the Arts Fellowships. For more information please visit www.kayrosen.com.
ARTIST'S STATEMENT
Before I go to bed, I usually set my alarm clock for 5:25am in the hope that I will get up and be ready to give food offerings to a Buddhist monk. However, when my lousy alarm clock sets off with its old classic ring tone, I never hesitate to slam it right away. Then I tell myself that I will get up in the next five minutes, but quite often I go back to sleep. As soon as I open my eyes again, I know I am already late.
However, I jump out of bed with a dizzy feeling and head to the bathroom. I brush my teeth while taking a shower to save time. I like to use herbal spearmint toothpaste, although my mother says that the taste is too strong. After a shower, I rush to put on clothes. With so little time to think, I often grab something black to go with a pair of jeans. No wonder why most of the instructors at The School of The Art Institute of Chicago wear black. Now I know.
"What is there to eat?" is a sentence that I have been using every day since I was young. Nonetheless, I feel so glad that I don't have to cook for myself anymore like when I stayed in The States. I eat anything just to fill my stomach, usually just the boiled rice that my father has continuously had for breakfast for more than thirty years.
I start up the old golden Toyota Camry that I have driven for almost seven years to go to work. It takes about forty-five minutes to drive from my home. My girlfriend always says that I drive too slowly, as I never drive more than a hundred kilometers per hour. The traffic jams in Bangkok have become so common in my daily life. Sometimes I spend up to four hours in the car - that means one sixth of the day. Such a waste of time, isn't it?
After work, I often visit my girlfriend. She runs a bakery nearby. It is good that now I can see her more often after we were apart for four years. I like to take her to a duck noodle restaurant near her shop. She loves duck legs so much that she always orders two. I normally drive my girlfriend home two to three times a week. It feels so lonely after I drop her off and have to drive back home alone for at least one hour. Anyway, when I arrive home I spend a little time talking to her on a phone.
Before I go to bed, after a prayer, I love to spend time thinking about things I have seen and people I have met. As usual, I never forget to set my alarm clock for 5:25am, hoping that I will get up to give food offerings to a Buddhist monk on time.
This is just a part of my life, also a part of my art.
CURATOR'S STATEMENT
by Kay Rosen
I first met Adi in 2006 when he was a student of mine working on his MFA degree at The School of the Art Institute of Chicago. As a student from Thailand, Adi had spent many years navigating the tricky linguistic and cultural terrain of Western schooling in Scotland and in the United States. I was impressed by the seriousness and toughness with which his work squarely embraced these challenges, and I came to realize that his distance from his native home and his relationship with his adoptive one played a huge role in his art and formed the core of it. His paintings and sculptures were nourished by his longing for what he left behind. However, I feel strongly that Adi's feet are planted not so much in the past versus present, or Asia versus North America, but rather in a zone somewhere in between where memory, dreams and fantasy bleed together. Filtered through the fine mesh of his personal sensibility, a diary emerges in the form of painting or sculpture about loss, time, distance, and even humor.
Like a pulse, repetitive painted marks and cuts are measured out and regulate the surface of his works on paper and canvas. They parse time as they depict natural and emotional phenomena such as leaves, snowflakes, raindrops, tears and wounds. In some cases this imagery forms the background in a shallow space gently overlaid or interwoven with other economically coded images. In the large scale canvas wall hangings (roughly 7' x 14') these obsessive markings are often the only imagery. The scale of these large works seems to suggest that through sheer size, they might bridge the painful space and time between Chicago and Bangkok.
In fact, an exhibition of Adi's in Chicago in 2007 was titled Bangkok-Chicago, in which medium-sized sculptures and large canvases engaged all aspects of the space (floors, ceilings, walls), punctuating it at intermittent intervals with Romantic reminders about distance and time. The sculptures (both older and new) share similar messages, economy, and crypticness with the two dimensional works, but their "objectness" and their conversion from everyday materials (leather, wood, plastic, metal, rubber foam, paper, sponges, steel, rope, screws and nails) to powerfully articulate assemblages cause them to function more like proxies for real life situations and emotional states.
The titles in Adi's work are extensions of the work itself, verbally annotating and giving voice to his eastern-accented visual vocabulary with phrases that could be western song lyrics. They express regret, loneliness, love, absence. Some titles like Only the lonely (2008) actually are song titles. Pronouns, likeme, you, I, and we, reinforce the poignant imagery of personal relationships, as in one new sculpture I wish you can come home with me, a title whose ambiguity about the identity of you, me, and home aptly describes a complex triangular relationship that could as easily apply to the artist and his relationship with the world.
View CATALOGUE
YOUNG ART CRITICS: Tim Ridlen on Adiwit Ansathammarat